Day 3
We lingered a little in the morning and then took off to the other end of Jeju-do, the East coast, to catch some of those waves that had evaded Kent at Jungmun (
중문)
Beach and which never appeared on the West side. We cut right through the island, hitting all of the major country roads and at so many times we were the only people we could see. If you're reading this from some expansive location, the thought of being isolated from humans is no-big shakes but after spending some time in the city, as we have now, it's so
obvious
when we're alone. It's almost an eerie sensation like after waking up out of a coma only to find you're the only human existing... all the other humans are undead and looking for dinner (it's Halloween time). It's also a totally AWESOME sensation, like I can inhale more deeply because I don't have to be so conscientious about not overusing the oxygen since I'm sharing with 4 million people around me.
The lonely roads finally kicked us out the other side and we followed signage leading us to Pyosean (
표세안)
Beach. We found an unmanned beach, even lacking sandy footprints. After we pondered whether or not Armegeddon had struck,
leaving us behind as the only humans,
and we were the only people Kent rolled around in the waves while I hunkered down like an ajumma (older korean woman, usually with perm, black hair dye job, floral printed clothing and massive sun visor) because of my sensitive sunburn.
We continued up the east coast, with our final destination being Manjangul (
만잔굴)
lava tube. We hit all of major natural wonders along the way and decided a quick pull over and a drive by was sufficient to quench our curiosities. We pulled over and took in Seopjikoji (
섭지코지), which is an area just south of the more famous Ilchul-bong (
일출봉)
crater. It has lush "bumps" of rolling meadow and striking natural-made stone walls. In a few more minutes we were to Ilchul-bong and took some time to get out and see the awesomeness of this crater jutting out of the water, just off of the coast. It is one of 350 smaller oreum or craters on the island.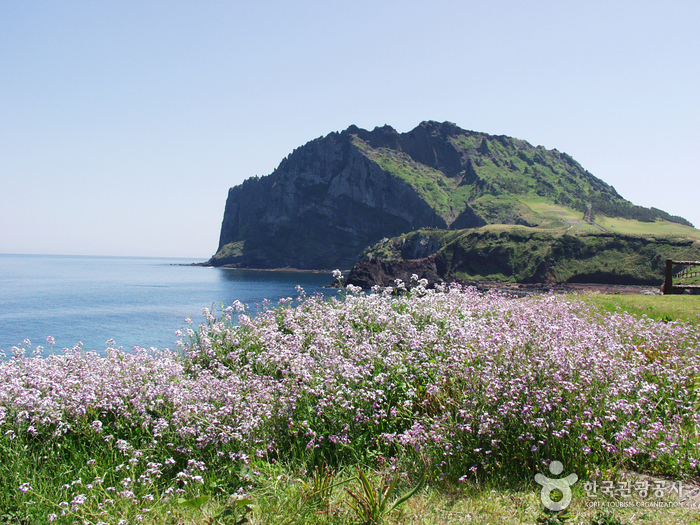 We also stopped for a quick snack, grilling up some bread and veggies at a public gazebo overlooking a blue bay. We were joined by another picnicking group who shared some sea creature snacks with us.
I thinks it's called
bomal.
mmmmmmm.
This is the stuff you overlook when slipping
into the ocean from the rocky shore

This was a hot day and it was taking all of the will power we could muster to NOT close the tinted Sonata windows and turn on the air-con. When we pulled up to our final tourist trap we were melted piles of stinky camper flesh. We bought our tickets and descended into one of the world's longest lava tubes. Manjangul runs for 8,900 meters and maintains a balmy (85-100% humidity) 50-55* F temperature and it felt like sweet relief. This particular cave also houses the largest population of long-fingered bats in Asia. we could only travel 1 km in and then had to U-turn it out. There were incredible rock formations the whole way though but the most stunning was a cave-in of molten lava at the 1 km point. The tubes were formed about 200,000-300,000 years ago when eruptions were still occurring. Lava would pour downward in streams. The ocean would cool the outer edges of the flow, hardening, and the lava would continue to runs through the inner tube, not the same as the beach toy. It was cool in many ways... buh-dumb-ching!
After the geographical excursion we camped at sweet campground at the base of the Gwaneumsa (
과늠사)
course that leads to the crater of Hallasan. Unlike our other sites, this was covered by a tree canopy, so we had that WI camping feeling. A kind Korean camping neighbor joined us for a lesson on lighting a cook fire. Kent had just finished coaxing the charcoal into embers when Mr. Fancy Camping Gear came over with a camp-sized blow torch and blasted our little portable pit into ashes... that's an exaggeration but I can still remember the FFFUHSCHHHHHHHHH sound of the fuel and flame. We feasted on a delicious bowl of ramen, or in Korea "lamyeon," and got a good night's rest for the Hallasan hike... one more time.
Thanks, mister. I think you got it.